🌊Penny's Bay Protest
Russia did .... a thing .....
Good morning,
Or rather it would be a good morning if yesterday's news didn't seem like WW3 might spark….
As a HK publication, we normally try to focus entirely on HK news but you can't ignore the biggest shifting of powers in Europe since WWII.
In 2021, the Russian gov made this tweet asking 'what is Russia'…I'm sure we're all asking that question again but with a bit less optimism than in the video.
Even with absolute neutrality, I can say that everything in the past week has been absolutely absurd.
~ Cyril
---
On Today's Tide:
COVID |

Vaccine Pass Day 1

Protest at Penny's Bay

Misc |

Kenneth Fok joins WKCD

Bubble tea shop owners breached NSL for pro-COVID stance

LPG Gas prices for March

Events
Premium Tide
International News | China: Russia's actions not 'invasion' but also not cool.

Economics |

$100bil 'gift' for Northern Metropolis

Lifeline for COVID hit businesses
---
COVID in HK
Coronavirus in Hong Kong
New cases: 8798

Total cases: 84,046

New deaths: 67

Total deaths: 460
Vaccine Pass Day 1
Yesterday marked the first day since the vaccine pass came into action, and it's generally been ok. (If you need a quick refresher, check out HKFP's FAQ)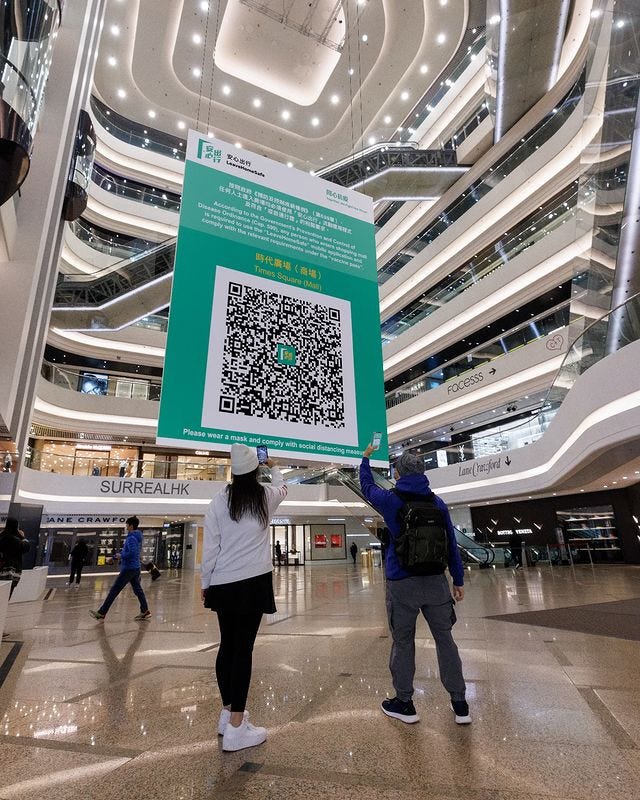 A post shared by My surreal life in Hong Kong (
@surrealhk
)
Some old folks are finding it difficult to scan and show vaccination records. Those that find it particularly stressful have been asking wet market vendors to pass them products outside.
On 29 Apr, everyone will need to have had two shots to enter any scheduled premises.
Penny's Bay Protests
Unfortunately, the same apathy towards the vax pass can't be said for Penny's Bay. As of early Feb, Penny's Bay became an isolation facility for young low-risk mild and asymptomatic COVID patients. Patients are only allowed to leave after testing negative.
The youth and the authorities haven't exactly been getting along the past few years.
Yesterday, 16 'inmates' staged a protest by leaving their rooms and going downstairs. Staff called the police; the crowd later returned to their rooms after giving details to the HA for followups. On the same day, a man threatened to commit suicide by drinking disinfectant.
On Wednesday, a viral video showed a woman chasing down staff and beating them for not letting her leave. Even after she had calmed down slightly, she was still running up and down swearing at various staff members.
On Tuesday, a 59 year old woman tried to jump off the roof of the camp. Police calmed her down and she returned to her room.
---
Other
Lawmaker Kenneth Fok joins the West Kowloon Cultural District board. Fok is currently the representative for the Sports, Performing Arts, Culture and Publication functional constituency.
Bubble of National Security
Two owners of Asco Cheesetea in Argyle Centre were arrested by National Security police yesterday for social media posts earlier in the month which urged people to boycott Leave Home Safe. The posts also urged people to stop getting shots, use excuses to get around the vax pass and for newly vaccinated students to pretend to be sick, adding pressure on schools.
Probably relevant if you drive (I do not)
---
Events / Exhibitions etc
We want to make sure that what we advertise is interesting for our readers, so if you go to an event that you saw here, let us know by taking a selfie and tagging us on Twitter or Instagram ( both @harbourtimes ).
We'll throw in a free month of Paid High Tide for yourself or a friend!
Events
EXTENDED | Recovery, Resilience, Resurgence: Asia Soc HK
From the exhibition website:
This exhibition's photos show Hong Kong during consecutive periods, as it was seen around the middle of the last century. The images span some thirty years of great change: from the postwar recovery in 1946 – 1947, through the resilience of the 1950s, to the resurgence of the 1960s – 1970s. The photos were taken by three photographers. In the order of their Hong Kong work they were: Hedda Morrison, Lee Fook Chee and Brian Brake. Each had markedly different life backgrounds and photographic objectives.
Please note the exhibition end date has been moved from 6 March to 6 June.
Where: Asia Society Hong Kong Centre, 9 Justice Drive, Admiralty, Hong Kong
Note: The Asia Society is closed until 23 Feb earliest, depending on upcoming COVID restrictions. See the exhibition virtually for free.
Work and Love in Québec Webinar
Thinking about living in Québec? This is the webinar for you. Jasmine's someone who has lived in the province. She says it's cool but very cold. Pun intended.
When: 2 March 12:30-1:30 PM
Want your events on Tide as well? Let us know!
Keep reading with a 7-day free trial
Subscribe to High Tide to keep reading this post and get 7 days of free access to the full post archives.