🌊 Monkeypox: COVID 2.0?
Keep Calm and Do Not Panic
Good morning,
As per usual, here's the Monday morning treat for y'all — a lil something from one of my favorite cooking channels, You Suck at Cooking. If you love deadpan humor and new words that should be entered into the Oxford English dictionary, this one's for you. And as for the brownies, you literally can't find a recipe easier and quicker than this. You could just snort up and slurp down the dry and wet ingredients simultaneously too, so do let me know if any of you choose this perilous second option.
Also here's to the one-week anniversary of The Completely Official CE Countdown Clock. Praise be, there's only five weeks or so remaining…
-Charlotte
---
On Today's Tide
The latest on monkeypox

COVID |

Growing clusters

Quarantine-free travel?

New governmental flats by the URA
Behind the paywall:
Crime | $77 million in illicit smuggled cigarettes discovered

China |

Shanghai hits case plateau

Reach for the stars — shiny new space toy
Become a premium subscriber for just $8US a month – extra daily news and weekend roundups!
---
Should we be worried about 'monkeypox'?
Replace 'monkeypox' with 'coronavirus' and you'd get literally all the articles that were released in about Dec - Feb (the latter for those who were a bit slow to respond) three years ago. 2020 simultaneously feels like a few decades and a couple weeks ago.
For those of you who haven't heard, monkey pox is an infectious disease that has been found in parts of West and Central Africa, with usually mild symptoms (incl. bumpy rash and fever). It's also spread by close contact with others, and current studies show that sexual contact may be a big factor in transmission. Out of the cases that have been reported in Europe, North America and Australia, and have "mainly affected men who have sex with men and have visited medical facilities", according to SCMP.
Despite the WHO pushing for increasing measures against monkey pox, such as increasing surveillance in countries where the disease isn't typically found, the spread hasn't been bad as some might have feared due to the COVID social distancing and restriction measures already in place. Who knew that crowded spaces and poor hand hygiene could spread bacteria?
However, HKU microbiologist Ho Pak-Leung said that he believes the outbreak risk for monkey pox in HK is relatively low, due to the virus not likely arriving in the city (knock on wood). Anyways, the isolation facilities would hopefully be enough to cover that should that become a reality.
---
COVID in Hong Kong
COVID-19 in Hong Kong
New cases: 237 (25 imported)

Total cases: 1,210,396

New deaths: 0
Cluster updates
The latest outbreak at a quarantine hotel in Lan Kwai Fong involves 3 cases of the more transmissive Omicron variant.
The Benchmark corporate training centre in Sheung Wan also reported 3 new cases, the total outbreak amassing to 24 people for that cluster.
However, Dr. Albert Au, the Centre for Health Protection's principal medical and health officer, maintains that the city's increasing vaccine rates should defend well against the risk for a large outbreak.
Quarantine-free travel for China or other foreign countries?
What would you rather pick- quarantine-free travel first for either mainland China, or for the rest of the world? Betty Yuen, new chairwoman of the the HK General Chamber of Commerce, believes that the second option would be best for the economy of this "sequestered island". While this appeal has yet to be realized or provoke a public response from the government, we can surely agree that travel is a sorely missed freedom.
---
HK$120 billion longterm plan for more flats
That's right, about 22,000 flats are said to be supplied over the next five years by the Urban Renewal Authority (URA). This effort to improve HK's housing infrastructure and living environment is said to cover more than 200,000 square metres (I'm sure they'll find the space somewhere…), and which needs a boost in production speed.
URA managing director Wai Chi-Sing said that this was due to a needed constant cash to sustain the projects. Without buildings open for use to the public, there could be a negative cash inflow of $15 billion in two to three years.
With the promises Wai makes of greater social benefits, such as addressing community issues of traffic flow/environmental hygiene, one can only hope the projects will be successful.
---
Events and deals
Support Harbour Times, our friends and partners by attending these events! Let everyone know who sent you by tagging @harbourtimes
Weekly events roundup:
Like movies? Like exhibitions? Then you'll love our events roundup this week. With a focus on international arts and media events, this week's highlights are bound to entertain no matter what nationality you are!
Shape of Heart: German Film Forum: https://bit.ly/3sLydYi
Virtual Tours of Poland: https://bit.ly/3G3SuOi
Recovery, Resilience, Resurgence: https://bit.ly/3MBIdLy
Science Talks are Women Talks - Women and Climate Change:
https://bit.ly/3MA5CwT
HK 1997: https://bit.ly/3Nn9MZa
A SPECIAL COFFEE DISCOUNT FOR ALL YOU READERS
Remember our collabs/event promotion for Coffee Lounge Gokan in Central?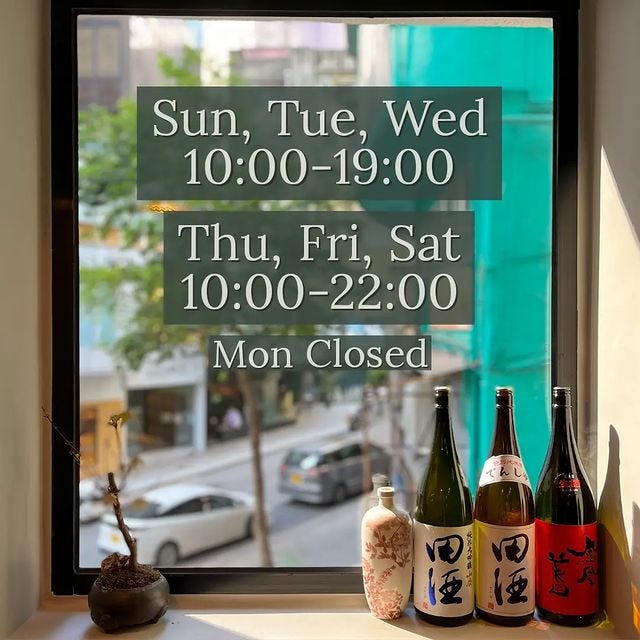 A post shared by Gokan Lounge - Specialty Coffee and Bar (
@gokanlounge
)
Well lucky you - all High Tide subscribers (starting with paid subs) can get
15% off all purchases by telling them the below code when purchasing.
or honestly, just show them this message. They'll be ok. If not, tell them I said it is.
---
This is the end of your free time on Tide.
Become a Premium subscriber to see what lies behind the paywall:
Can't go Premium yet? No worries, there are other ways to support High Tide:
Keep reading with a 7-day free trial
Subscribe to
High Tide
to keep reading this post and get 7 days of free access to the full post archives.