🌊Jumbo rides into the waves
Welcome home, John
Good morning,
It's that time of the year again where we beg for summer interns that may stay over summer. We do this because High Tide runs off slave student labour. We offer exposure coins.
Contrary to previous years, we have much better official looking job postings courtesy of Telum's job board - so if you, or anyone else you know, wants to write kinda funny newsletters, send them over.
— Cyril
---
On Today's Tide
Culture & Society |

Jumbo sails away, over the sea, past Ocean Park

The Wanch reopens

COVID | Vax pass stage 3 live - get your 3rd jab

Politics |

John Lee comes home: new electoral system to stay for a long time

Events
Behind the paywall:
Education |

Legco to debate patriotic education

Brain drain plagues schools

More politics |

Former HK Liaison office chief promoted to CPPCC

Carrie Lam dodges Tiananmen questions
Become a premium subscriber for just $8US a month – extra daily news and weekend roundups!
---
Goodbye Jumbo, for real this time
Landmark floating restaurant, Jumbo, which has been in Aberdeen for over 40 years will soon not only be docked, but docked out of Hong Kong according to Melco international, who owns the boat.
The restaurant closed in 2020 when the pandemic first began. Although Melco at the time said it was only a hiatus, the uniquely designed carpark by the pier had been demolished without notice. This led to many preservationists, politicians and media (including me - it was actually my first major HT project ~ Refresh your context) making noise, trying to stop the demolition.
Eventually, after much discussion, a deal was made where Ocean Park would take control of Jumbo as part of the Invigorating Island South Programme. However, over the past two years, Ocean Park has also … not done great … and they've been unable to find a third party to run Jumbo due to high maintenance costs.
When asked about whether the government would intervene, CE Carrie Lam said the government will not intervene - 'just because I said I'd help in my in my policy address doesn't mean I actually need to do it !'
Jumbo will be sailing out of HK waters next month as there are no dry docks big enough to house it, and maintenance offshore is too expensive. Melco hopes that in the future, a new tenant might be able to revive the boat, but for the time being it'll be out of town…and may not come home.
But some good news
The Wanch, also shuttered for COVID, has officially reopened its doors for the public. Aside from bringing back a much beloved music venue, the new Wanch also has a brilliant kitchen and a few venue-only craft beers (seriously, I was there for previews yesterday, and the food is gorgeous).
See thread for pics~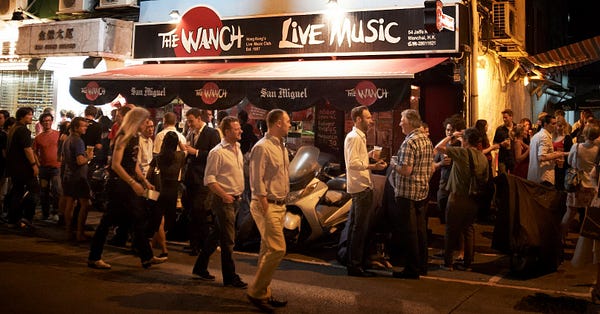 bit.ly
After two years of silence, The Wanch is ready to rock again! - Harbour Times
Image: Past Performances at The Wanch, via The Wanch Facebook Once hailed as Hong Kong's 'home of live music', the over 30-year-old live music bar shuttered in late 2020 after a cacophony of chaos from the 2019 social unrest segueing directly into the COVID-19 pandemic. I woke up on 17 Aug 2021 to a…
---
COVID-19 in Hong Kong
New cases: 294

Total cases: 1,212,699

New deaths: 0

Total deaths: 9,378
Vax pass stage 3 live!
As of yesterday, everyone needs to have their 3rd shot before going…anywhere. I got mine 2 weeks ago and was out of commission all Wednesday. It hurts and I did not enjoy it.
The FEHD says they will be carrying out stricter checks over the next few weeks to make sure restaurant operators are following the new rules.
If you've not had your 3rd jab, book here (so you can go for lunch)
---
John Lee comes home
Upcoming CE John Lee returned to Hong Kong yesterday morning after a four day visit to Beijing where he met with high ranking Chinese officials. During the meeting, President Xi and Premier Li both reinforced the Mainland's support for HK's new electoral system, the NSL and HK's further economic development under One Country, Two Systems.
When he arrived back in HK, he told the press that the electoral system "should be maintained for a long period of time" because it has "taken consideration of the actual situation of Hong Kong, and satisfies the development needs of Hong Kong".
Lee also discussed what HK needs to do before re-opening the border with the Mainland (control COVID).
Later in the day, Lee had a meeting with head of the Hong Kong and Macau Affairs Office, Xia Baolong about his picks for the new government cabinet. Details are currently not privy to the public.
---
Events and deals
Support Harbour Times, our friends and partners by attending these events! Let everyone know who sent you by tagging @harbourtimes
Read our full press release on the event here.
As a High Tide subscriber, you get to enjoy super-early-bird prices until 4 Sep (already expired for everyone else in early May).
Sign up here using the code HTP22 for 25% off!
A post shared by 亞洲素食展 | Vegetarian Food Asia 🌱 (
@vegfoodasia
)
As chosen by our LoTW Luke Samtani: I follow a vegan plant-based diet, undoubtedly, I'm excited about Hong Kong's biggest and most diverse vegetarian and green living expo that will take place in June.
Where: HKCEC
When: 10-12 Jun (latest rescheduling)
Entry: Free (advanced registration; $20 walk-in)
Wine for Ukraine
Forrest Go & Partners are selling high quality wines for a cause - 50% of all proceeds will be going to humanitarian causes in Ukraine. A $480 bottle with a $240 donation.
A post shared by The Ukrainian Society of Hong Kong 🇺🇦🇭🇰 (
@ukrainians.hk
)
---
This is the end of your free time on Tide.
Become a Premium subscriber to see what lies behind the paywall:
Can't go Premium yet? No worries, there are other ways to support High Tide:
Keep reading with a 7-day free trial
Subscribe to
High Tide
to keep reading this post and get 7 days of free access to the full post archives.