🌊John Lee puts his finger on your pulse
Organisations helping Ukrainian refugees
Good morning.
It's finally May, which means that it's my birthday month! You can find me celebrating my birth month all May long, because I deserve it.
By the way, Maxime Vanhollebeke, one of the co-founders of Hong Kong Shifts, sent me "The Surprising Power of Talking to Strangers", a Tedx Talk done by his fellow co-founder Cynthia Cheng:
It was a heartwarming talk and given these hard times, I definitely recommend the watch!
---
On Today's Tide
Politics | John Lee wants to keep his finger on HK's pulse.

COVID-19 | New platforms join the roster for consumption voucher collection.

Ukraine | Organisations to support (approved by the Polish Consulate).

Events | Today and tomorrow hike for #PolishHeritageDays.
Behind the paywall:
Politics | See the stats of the first 'patriots-only' LegCo election.

Travel | Foreigners can finally fly into Hong Kong!

Crime | Night club and bar operators arrested.
Become a premium subscriber for just $8US a month – extra daily news and weekend roundups!
---
Political reform can wait: John Lee
Politics
John Lee wants to feel your pulse.
Not literally, I would hope, but the future Chief Executive said during his Tin Shui Wai wet market visit yesterday that it's important for authorities to "feel the pulse of the public".
Is he saying that authorities could be… out of touch with the HK public?
---
Two new platforms available for consumption voucher collection
COVID-19
HSBC's PayMe and Bank of China's BoC Pay will become available for people to collect their HK$10,000 consumption vouchers this summer, joining four other platforms where people can currently get their vouchers.
Coronavirus in Hong Kong
New cases: 300

22 imported

119 detected by PCR tests

181 detected by RATs

Deaths: 5

Total cases (since the 5th wave): 1,191,879

Deaths (since the 5th wave): 9,100

Testing is required for people who were present at 40 specified places.

Five positive cases were found after a lockdown at Tung On House in Lei Tung Estate, Ap Lei Chau.

Wing Shing House in Fung Shing Court, Sha Tin, went into lockdown last night and should be finished by 8 AM today.
---
Organisations helping Ukrainian refugees
With millions of people who have had to flee their homes in Ukraine, it's important that we give a platform to the groups who are providing humanitarian support to these people. Here is a list of organisations, approved by Hong Kong's Polish Consulate, that are working hard to support the refugees of Ukraine: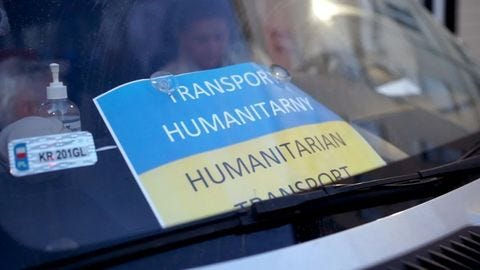 ---
Events and deals
Support Harbour Times, our friends and partners by attending these events! Let everyone know who sent you by tagging @harbourtimes
TODAY & TOMORROW | Hike up Eagle's Nest with the Polish Consulate
Our friends at the Polish Consulate invite all to celebrate Polish national day by hiking up Eagle's Nest over the long May weekend. The White Eagle is the symbol of Poland, and the first capital of Poland was named Gniezno, 'the Nest'. The 305m peak of Eagle's Nest also poetically corresponds with the 3rd May Polish National Day.
And an additional message from the Consulate:
As this year's Polish Heritage Days are organized during the ongoing war in Ukraine – our special invitation goes towards our Ukrainian friends from Hong Kong. Let us all meet in the Eagle's Nest, wearing clothes in 🇵🇱Polish (white and red) and/or 🇺🇦Ukrainian (blue and yellow) national colours.
Consulate staff will be there from 30 April through to 3 May to guide and support.
Opportunities in ESG: Irish Chamber of Commerce x ReThink
As a long-term supporter of both the Irish community in HK and of ReThink, this event is pretty up our alley.
From the event description:
"ESG investing has become mainstream, and its growth is accelerating in HK, GBA and across the world. [This webinar] aims to explore the various opportunities that exist for both companies and individuals as ESG rises to the top of the corporate agenda.
We will discuss career opportunities, the roles of various stakeholders, the critical talent gaps that exist, the impact of technology and how to incorporate industry-leading ESG practices in your business"
When: 5 May, 5-6pm
Where: Online
Cost: $50 (Irish CC non members; free for members)
Sign up here.
For other local events, check out our weekly roundup on Instagram
---
This is the end of your free time on Tide.
Become a Premium subscriber to see what lies behind the paywall:
Can't go Premium yet? No worries, there are other ways to support High Tide:
Keep reading with a 7-day free trial
Subscribe to
High Tide
to keep reading this post and get 7 days of free access to the full post archives.