🌊Football is back: Fans boo the anthem
Macau to start taking mainland tours
Good morning,
Yesterday's student talk was a success (if I do say so myself). I got participants to proofread a paragraph from a longer reportage on Mo Li's injuries because as an editor, I have no proofreading abilities.
Also my Instagram was bugged for days, so I only have one pic from the event that I could upload. But I think it gets the vibe across pretty well.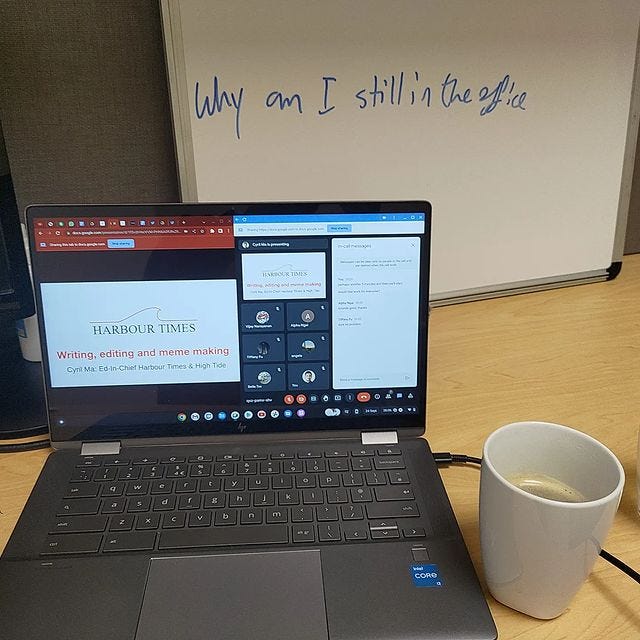 — Cyril
---
On Today's Tide
Sports | Football fans boo Chinese anthem

COVID |

F&B unions demand end to curbs

Macau to start accepting Mainland tour groups

Weather | Heavy rains but little damage from super typhoon

Events
Behind the paywall:
Politics | Student Politicism shows up to court

Society | No tenders for Ocean Park redevelopment
Become a premium subscriber for just $8US a month – extra daily news and weekend roundups!
---
Football fans boo the anthem
After three years of COVID induced hiatus, football fans once again crowded Hong Kong stadium yesterday to watch a test match between Hong Kong and Myanmar. And as soon as the national anthem came on, ten seconds of aggressive booing, followed by chants of "We are Hong Kong". Police were seen videoing
Hong Kong v Myanmar was the first major sports event since the National Anthem Ordinance was passed in 2020, outlawing insulting behaviour towards the National Anthem. If convicted, you can get a maximum fine of $50,000 and 3 years imprisonment (full ordinance (Inst. A405) here).
Fun fact: the ordinance was written and passed in direct response to Hong Kong football fans booing the anthem after 2014.
In 2015, the Hong Kong Football Association was fined $40,000 after Hong Kong fans threw objects and booed the national anthem during a test match against Qatar. In 2017, China passed their version of the National Anthem Ordinance, but not yet added to HK law, fans at Mong Kok stadium continued to jeer the anthem during a match against Laos. During the height of the protests, in sept 2019, the anthem was booed, and 'Glory To Hong Kong' was sung in a Hong Kong v Iran test match at Hong Kong Stadium. Spectators outside the stadium sang along and chanted 'Liberate Hong Kong, Revolution of Our Time' (this was before it was illegal), and human chains were also formed during half time.
---
COVID in Hong Kong
COVID-19 in Hong Kong
New cases: 3897 (117 imported)

Total cases: 1,745,500

New deaths: 10,116

Total deaths: 10

Compulsory Testing locations: 65
Please, just let us eat
Five major F&B associations penned a joint appeal directly to CE John Lee asking for COVID curbs on dining establishments to be urgently eased.
The groups were:
Association of Restaurant Managers

Hong Kong Federation of Restaurants and Related Trades

Association for Hong Kong Catering Services Management

Institute of Dining Professionals

Hong Kong Japanese Restaurant Association
In the appeal, they asked for seating cap to be eased from 8 to 12, and for the limit of 120 people for banquets and opening hour curfews to be scrapped.
"The epidemic restrictions on catering businesses have remained the same since a round of easing in May", said the letter "and residents' willingness to spend in restaurants have not been recovering".
I want to go to Macau :(
Macau is planning on allowing tours from the Mainland again come November. Macanese CE Io Yat Seng said in a press conference that Mainland tourism is important to the city's economy and that the Central authorities have given the ok for Macau's plan.
When asked whether Macau will open up like Hong Kong is trying to, Io said that Macau doesn't have the authority to make a big change like Hong Kong as they have to more closely follow China's COVID policy.
---
Big rains, little damage
Super typhoon Noru will be skirting around the South China Sea in the coming week, hitting Vietnam in the process. Noru is predicted to stay around 700 miles from HK, bringing sun on Monday followed by showers the days after. Not much more damage is predicted otherwise.
We will, with HKO's updates, keep everyone updated if it does come closer.
---
Events and deals
Support Harbour Times, our friends and partners by attending these events! Let everyone know who sent you by tagging @harbourtimes
Ponte Orchestra 2022 Season
Our friends at Ponte Choir and Orchestra have announced their 2022 season starting with two concerts in October - Moment: Music and Mindfulness Concert and International Ponte Music Festival: Concerto Competition (Grand Finale).
Moment: Music and Mindfulness is a collaboration between Ponte and music therapist Howard Ho which uses narration and carefully selected classical pieces to combine arts and mindfulness.
A post shared by Ponte Orchestra & Singers (
@pontemusic
)
Where: Tsuen Wan Town Hall
When: 8 Oct, 8pm
Cost: $180-350 (student and senior discounts applicable)
Official media partner: ReThink HK returns 5-6 Oct
HT is proud to once again be a media partner for ReThink - HK's biggest and most exciting sustainability conference. This year's conference invites more than 300 expert speakers to share their visions and insights, covering important topics like economic progression while coexisting with nature harmoniously, efficient use of resources, transformation to a low-carbon society, and circular economy for future generations.
For more local events, check out yesterday's High Tide.
---
This is the end of your free time on Tide.
Become a Premium subscriber to see what lies behind the paywall - extra news everyday and on weekends.
But wait there's more - Premium subscribers get additional discounts on all HT x partnerships:
Can't go Premium yet? No worries, there are other ways to support High Tide:
Keep reading with a 7-day free trial
Subscribe to High Tide to keep reading this post and get 7 days of free access to the full post archives.