🌊CCP 20th Congress Opens
Food Panda strikes continue into Day 2
Good morning,
A bittersweet goodbye last night to a friend of mine - who we just call Uncle Snake, one of HK's top home beer brewers.
But most people reading Tide would know him as the HSBC ad guy with the afro.
He's also, as I recently found out, a professional trombonist so last night I went with some friends to see his final show in HK before he moves to Taiwan in a few days.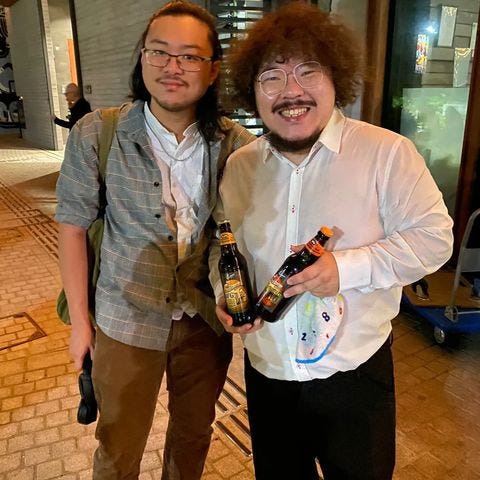 — Cyril
---
On Today's Tide
International | Residency applications for HKers in Taiwan harder

COVID | More calls to turn COVID camps into transitional housing

Society | Foodpanda still on strike

Weather | The Typhoon is coming

Events
Behind the paywall:
CCP 20th Congress Highlights: Day 1

COVID

HK/Macau relations

Taiwan Relations

Country's future
Become a premium subscriber for just $8US a month – extra daily news and weekend roundups!
---
Harder applications for HKers in Taiwan
The Mainland Affairs Council of Taiwan which deals with cross-straits relations, has spoken out against online articles which say that applications for residency by Hong Kongers in Taiwan have gotten harder.
This is partially in response to a Ming Pao article dated 5th Oct which found that 70 applications for residency were denied on grounds of Taiwanese National Security.
The Council admitted using the Taiwanese National Security law to bar some potential residents, but said that it was not being 'abused'. Instead, they said that some emigrants had shown "traces of fake operations" which complicated the already "chaotic situation" of Hong Kongese and Macanese emigration to the island. For instance, individuals sending in fake cheques and business receipts, or getting residency then immediately leaving for Hong Kong again.
While authorities have become tighter with checks, they did not increase the actual threshold, said the Council.
---
COVID in Hong Kong
COVID-19 in Hong Kong
New cases: 5564 (385 imported)

Total cases: 1,837,848

New deaths: 5

Total deaths: 10,273

Compulsory Testing locations: 67
Turn COVID camps to transitional housing: Chua
Chua Hoi-Wai, president of the Hong Kong Council of Social Services, urged the government to use COVID camps for transitional housing, if there are no alternatives.
He said that Kai Tak, which has 2700 units, is situated perfectly and could alleviate problems for many grassroots family currently living in subdivided flats while waiting for government housing. Bigger apartments can be made by merging together several flats, he said.
---
Foodpanda stike day 2
A foodpanda rider strike which was supposed to be on Saturday night was extended into Sunday as at least 1000 deliverymen echoing the demand of their comrades for fairer treatment.
Riders gathered outside Tsing Yi MTR station and the PandaMart store in Kowloon Bay with signs saying 'say no to slavery' and 'fair pay'. A representative of the protestors said a new round of strikes may come next week.
This round of strikes were sparked by a new mapping system introduced by FoodPanda which better calculated distance - something many riders had an issue with last year - but also reduced ordering fees. Riders reported a loss of from 10-30% earnings.
Foodpanda said they would seek dialogue with the riders.
---
Typhoon incoming
Typhoon Nesat is quickly towards Hong Kong. At time of writing (like 9am because I sometimes write in the mornings now - sorry super early birds) the signal is at T1.
The HKO has announced that T3 will likely be raised between 10am-1pm.
Weather for the coming week will be rainy and windy.
---
Events and deals
Support Harbour Times, our friends and partners by attending these events! Let everyone know who sent you by tagging @harbourtimes
International Ponte Music Festival: Concerto Competition (Grand Finale)
To showcase the power of young local music talent, Ponte is delighted to present to eight finalists from their International Ponte Music Festival: Concerto Competition, held early this year.
We welcome you to this Grand Finale and witness these rising stars to make their debut with an orchestra.
When: 22nd October 2022 (Saturday); 19:30 – 22:00 pm
Where: Hong Kong Jockey Club Amphitheatre, HKAPA
Cost: From $180-$220
Music Roundabout: Sound of the Netherlands
Need another concert in your life? Ponte Orchestra is collaborating with local harmonica soloist Timothy Tang to showcase famous Dutch music from the Baroque, to folk and even modern pop. This performance is supported by Hong Kong Arts Development Council and the Netherlands Consulate General in Hong Kong and Macao.
When: 23nd October 2022 (Sunday); 20:00 – 22:00 pm
Where: Hong Kong Jockey Club Amphitheatre, HKAPA
Cost: From $180-$480
---
Russians have banking issues in HK
Westrern sanctions over the war in Ukraine has caused many Russian people in HK to experience difficulty with banking services.
HSBC, in particular, has been confirmed to have notified most of its Russian clients in the city (those who aren't EU residents/nationals) that retail investment services would be suspended for them. However, this suspension 'wouldn't affect clients' personal savings accounts or other personal banking needs'.
This is likely due to HK-based banks that have a more international market not wanting to risk losing major clientele in the US and Europe by not following their 'punitive measures'.
John Lee further said on Tuesday, when asked about Russian funds, that foreign capital would be handled according to the law.
---
This is the end of your free time on Tide.
Become a Premium subscriber to see what lies behind the paywall - extra news everyday and on weekends.
But wait there's more - Premium subscribers get additional discounts on all HT x partnerships:
Can't go Premium yet? No worries, there are other ways to support High Tide:
Keep reading with a 7-day free trial
Subscribe to High Tide to keep reading this post and get 7 days of free access to the full post archives.