Discover more from High Tide
Know Hong Kong in minutes
Over 1,000 subscribers
🌊 Tastes like Canada
29.3.21 | Can High Tide save the Ever Given?
Good morning.
Aside from sending subscribers the latest on Hong Kong every morning, it turns out that High Tide is also working hard to save the day in the Suez Canal. However this situation pans out, I hope your week will be better than those working to free the Ever Green's.
---
News 🗞️
---
No ads. No nonsense. Just news. Support HK's independent journalists!
---
A Sip of Canada
You don't have to travel to Canada to drink the best beer the country has to offer! Unibroue beers can now be found at The China Bar LKF; so run, don't walk, to enjoy a taste of Québec (only if you're of legal drinking age of course).
---
#StopAsianHate
The Foreign Correspondents' Club Hong Kong hosted a talk on the long history of Anti-Asian Violence in the US.
"What struck me most deeply as I read through some of the responses to that piece is almost every Asian American woman I know has experienced some kind of sexualized racism, and how mundane and pervasive that sort of experience has been for us, to the extent that we almost brush it off as part of the American experience."

— Jiaying Fan, staff writer at The New Yorker
---
Conservation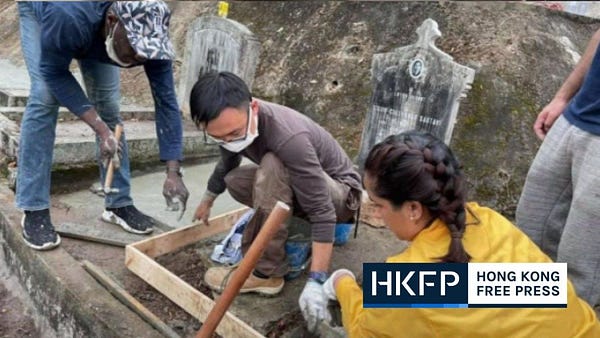 Volunteer efforts over the course of three weeks have helped save a Happy Valley Hindu cemetery honouring Indian soldiers who fought in WWII. In similar news, a mansion from the 1930s will undergo restoration for community use.
---
If you like the Suez Canal memes…
You'll love the Meme Committee, which is the most fun you'll have while supporting what we do on High Tide.