🌊 Sports🤝Handover
So much crime! Really! Make it stop!
Good morning.
Oil Street Art Space, an art gallery that holds a special place in my heart, is opening its new extension in North Point today!!! 10 new projects will be released with the opening of this space, and I'm so sad I won't be there to experience them. If you go, let me know how it is. Please send me photos.
— Jasmine "your online art nerd" Lee
---
On Today's Tide
National Security | Retired Cardinal Joseph Zen to appear in court.

COVID-19 | To fourth jab or to not fourth jab?

Handover Day | Free sports (first come first serve)!

Events
Behind the paywall:
Transport | Airport runway number three is costing more than we planned…

Crime | Vote-rigging sentences hiked up, WHO scammer confesses, and (much much) more.
Become a premium subscriber for just $8US a month – extra daily news and weekend roundups!
---
Today: Retired Cardinal and five others to stand in court
National Security
The retired Cardinal Joseph Zen Ze-kiun, singer Denise Ho, and three others will appear in court today in a case where they were charged for not registering a fund (that is no longer active) meant to give financial aid to 2019 protesters.
In relation to this fund, HK's Law Society confirms that national security police sent over a complaint claiming that some lawyers have been suspected of misconduct while handling legal cases. The Law Society has not disclosed further details.
Since we can't get enough of national security, here is another related news story:
Martin Rogers, Asia chairperson of US law firm Davis Polk & Wardwell, will no longer be speaking at a national security law forum (The National Security Law Legal Forum: Thrive With Security) that has been criticised as a "propaganda event".
---
Fourth dose recommended for higher-risk populations
COVID-19
People with chronic illnesses or other health needs that put them in a higher-risk category are recommended to get a fourth COVID-19 vaccine at least six months after their third. Same-day tickets for the fourth dose are now available at community clinics and hospitals, while online bookings will be available on Thursday.
Coronavirus in Hong Kong
New cases: 190 (28 imported)

94 detected by PCR test

96 detected by RATs

Total cases (since 5th wave): 1,197,955

Total deaths (since 5th wave): 9,157

Compulsory testing notice: 49 specified places

Namibia has been added to the list of recognised vaccination records for people arriving in Hong Kong.

A survey by Caritas' Youth and Community Service division and Health In Action found through a survey that many subdivided flat tenants dealt with increased rent prices and a decrease in income during the fifth wave of the pandemic. About 40% of those surveyed dealt with depression and/or anxiety.
---
Free sports for everyone!!!!
Handover Day
One way Hong Kong is celebrating the 25th anniversary of the SAR's handover on 1 July is by letting people go to public sports facilities for FREEEEE! Places will be available for the sports centres online, so make sure you wake up bright and early and snatch your tickets at 7 AM on 25 June when they go live.
---
Events and deals
Support Harbour Times, our friends and partners by attending these events! Let everyone know who sent you by tagging @harbourtimes
Weekly events roundup:
Like movies? Like exhibitions? Then you'll love our events roundup this week. With a focus on international arts and media events, this week's highlights are bound to entertain no matter what nationality you are!
Shape of Heart: German Film Forum: https://bit.ly/3sLydYi
Virtual Tours of Poland: https://bit.ly/3G3SuOi
Recovery, Resilience, Resurgence: https://bit.ly/3MBIdLy
Science Talks are Women Talks - Women and Climate Change:
https://bit.ly/3MA5CwT
HK 1997: https://bit.ly/3Nn9MZa
A SPECIAL COFFEE DISCOUNT FOR ALL YOU READERS
Remember our collabs/event promotion for Coffee Lounge Gokan in Central?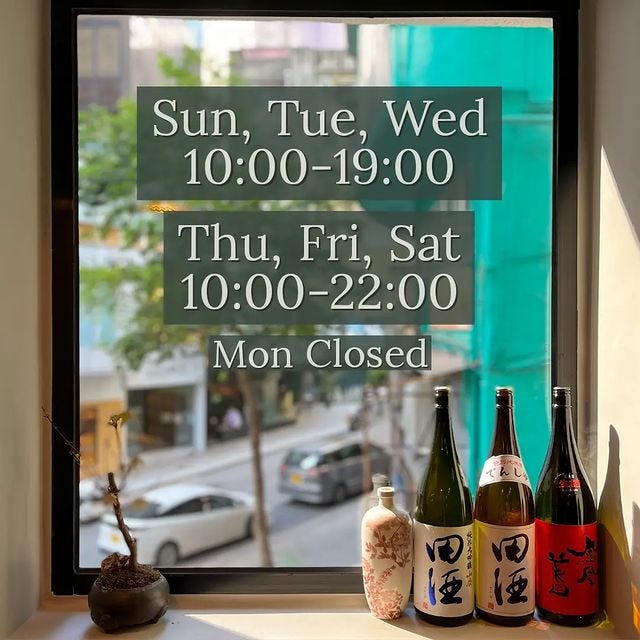 A post shared by Gokan Lounge - Specialty Coffee and Bar (
@gokanlounge
)
Well lucky you - all High Tide subscribers (starting with paid subs) can get 15% off all purchases by telling them the below code when purchasing.
or honestly, just show them this message. They'll be ok. If not, tell them I said it is.
---
This is the end of your free time on Tide.
Become a Premium subscriber to see what lies behind the paywall:
Can't go Premium yet? No worries, there are other ways to support High Tide:
Keep reading with a 7-day free trial
Subscribe to High Tide to keep reading this post and get 7 days of free access to the full post archives.