🌊 Pet inclusivity
Pick your favourite John Lee quote
Good morning.
In honour of our top story today, here is a pet:
Oh, how I wish I could pet that pet.
---
On Today's Tide
Become a premium subscriber for just $8US a month - extra daily news and weekend roundups!
Society | More Hong Kong parks become pet-inclusive.

COVID-19 | The fourth day in a row Hong Kong is under 1,000 daily cases!

Politics | John Lee's the only valid candidate (ft. best quotes).

Events
For premium High Tide readers
Diplomat | CG of Malaysia meets up with HKETO's new appointee.

Accidents | Fire blazes through flat hospitalising five.

Bonus | People line up for donuts at these prices!?
---
Pet-inclusive parks coming to a spot near you
Hong Kong is making more space for our pets to play by designating over 60 government-run parks as pet-friendly areas. The Central Pier Waterfront and Sun Yat Sen Memorial Park are two of the venues on the list. These parks will be open for pets and their human friends on Thursday (21 April) and will raise the number of pet-inclusive spots up to over 100.
Pet owners who read Tide: Are you excited for more options to spend time in the outdoors with your best friends? Let us know in the comments.
---
COVID-19 in Hong Kong
Coronavirus in Hong Kong
---
The only valid candidate
Politics
It's confirmed, John Lee is the only "validly nominated candidate" who will run in the Chief Executive election on 8 May. All of the 786 nominations Lee received have been validated.
According to this SCMP piece, Lee plans to focus on rolling out quarantine-free travel between the mainland and Hong Kong. He will also work on housing, senior care, civil service and technology reform. Lee will be announcing his plans in more detail next week.
Given that the outcome of this election is pretty obvious, Lee will be the first former police officer to take this position in Hong Kong. See some quotable favourites in this HKFP article on the future CE!
---
Events and deals
Support Harbour Times, our friends and partners by attending these events! Let everyone know who sent you by tagging @harbourtimes
🍿 A virtual movie screening for Canadian Film Day on April 20:
With cinemas (still) closed, who wouldn't be down for some free movies? Be sure to join the Canadian Consulate General of Hong Kong for a free virtual screening of the Canadian drama film "Run Woman Run" in celebration of Canadian Film Day on April 20! Registration details will be announced soon 👀.
Raise awareness on protection against workplace sexual harassment: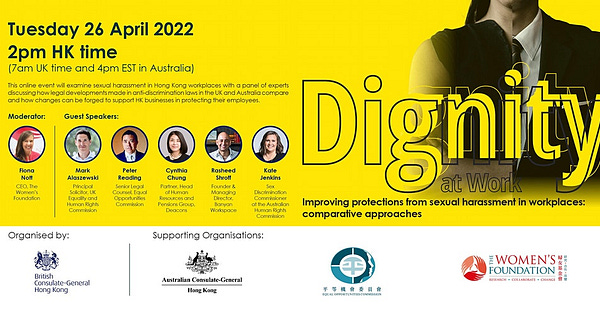 eventbrite.hk
Dignity At Work Improving protections from sexual harassment in workplace
Dignity at Work Improving protections from sexual harassment in workplaces: comparative approaches
This free interactive discussion on 26 April will provide information on workplace sexual harassment in Hong Kong, offer preventative strategies, and make policy suggestions on the matter. Panel speakers include representatives from the Equal Opportunities Commission and Equality and Human Rights Commission.
---
This is the end of your free time on Tide.
Become a Premium subscriber to see what lies behind the paywall:
Can't go Premium yet? No worries, there are other ways to support High Tide:
Keep reading with a 7-day free trial
Subscribe to
High Tide
to keep reading this post and get 7 days of free access to the full post archives.