🌊 HK is (finally) re-opened again! 🎉
People wasted no time getting back into the swing of things as COVID-19 rules officially eased yesterday.
Good morning,
Well, it's about that time folks… hope everyone was able to make the most out of the first day of social-distancing relaxations yesterday! 🥳 With rules now finally eased, yes – this is exactly how I expect everyone in HK to be turning up to those Cha Chaan Tengs after 6pm everyday:
– Carlos
---
On Today's Tide:
COVID-19 |

Much enthusiasm as social-distancing rules ease in HK 🎉

COVID-19 arrangements will be put in place for upcoming HKDSE exams

Nightlife businesses call on government to let them re-open too

Law and Crime | Law firm Vidler & Co. to close after 19 years in HK

Events
Behind the paywall:
CE Election | Beijing hits back at Google for taking down John Lee's YouTube channel

Nobel Prize | Imprisoned HK pro-democracy leaders among 2022 Nobel Peace Prize nominees
Become a premium subscriber for just $8US a month – extra daily news and weekend roundups!
---
COVID? What COVID?
COVID-19
People all across Hong Kong were seen out and about yesterday, as the first official day of relaxed social-distancing measures came into effect. Cinemas, theme parks, places of worship, museums, and gyms re-opened their doors again, with dine-in hours at restaurants now extended to 10 p.m allowing up to four people per table.
After months of closure, happy faces (under the masks, of course) were seen all around as crowds of families flocked to Disneyland and Ocean Park 😁:
Many ecstatic gym-goers even rushed to work out at the stroke of midnight to get a hold of the weights they haven't held for so long… (because priorities, duh 💪🏼):
New cases: 628 (317 PCR, 311 RAT)

Total cases: 1,200,334

New deaths: 18 (8 backlog)

Total deaths: 9,212
Other COVID-19 updates:
• Health authorities yesterday said that six students will undertake their HKDSE exams in a quarantine camp after four of them came down with COVID-19, with special arrangements set to facilitate the process.
• Representatives of nightlife businesses called on the government yesterday to allow them to re-open as well, saying it was unfair for them to be left out of COVID-19 relaxations.
• The hospitality sector welcomed the easing of social-distancing measures for eateries, saying it was a good way to help businesses improve their income – but also warned that it may not be as beneficial to more traditional restaurants in the city.
Lockdown updates:
• Nine positive and three indeterminate COVID-19 cases were uncovered during a compulsory testing exercise for a restricted area in Kwun Tong.
---
Vidler & Co. to cease operations after 19 years in HK
Law and Crime
Local law firm Vidler & Co., which handled several high-profile cases in relation to the 2019 protests, announced yesterday that it will close down on June 3 after 19 years in the city.
The firm specialised in human rights issues and picked up many controversial incidents as well, including one involving Indonesian journalist Veby Mega Indah, who was allegedly shot in the face with a police projectile during a 2019 protest in Wan Chai.
---
Events and deals
Specialisty Coffee Workshops with Gokan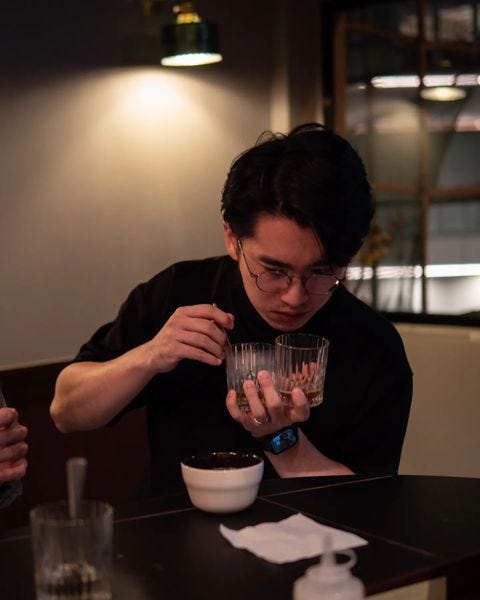 Enjoy a cup of coffee but not sure why? Want to learn how to make it yourself? Q-Grader (literally qualified world class) barista Jaco will be hosting boutique coffee courses next week:
Tuesday 6-7pm: Brewing techniques

Wednesday 10:30am-12pm: Sensory and cupping training
More details to come. Don't miss out!
Smashin' Grapes - Hong Kong's first Italian Grape Ale
Another week, another new craft beer launch! Deadman Brewery's new brew is Hong Kong's first Italian Grape Ale, a newer beer style which uses a large portion of wine grapes in fermentation to create a wine-beer hybrid.
"We used 20% white grapes, 20% red grapes to add more layers of flavor and give the beer a beautiful light pink hue. Fermented with saison yeast. Aged on light toasted French oak for subtle oaky flavours to add complexity".
Grand launch at Craft Logic, Soho, this Saturday.
Grab a glass and drink till 10pm when please go home because that's how long you're allowed to stay out.
Yardley Brothers: Bottle Discounts
Award winning local craft brewers the Yardley Brothers are doing bottle discounts at both their pubs - the OG Beer Shack on Lamma Island and their brand new YARDLEYS Cafe/Bistro/Bar on Peel Street.
At YARDLEYS: 20% off bottles of beer for takeaway. Special recommendation for the 12 month barrel Aged Fijoa Sour - made to celebrate the opening of the bar!
At The Beer Shack: Buy 5 get 6th for free on all bottles.
Support Harbour Times, our friends, and partners by attending these events! Let everyone know who sent you by tagging @harbourtimes.
This is the end of your free time on Tide.
Become a premium subscriber to see what lies behind the paywall:
Can't go premium yet? No worries, there are other ways to support High Tide:
---
Keep reading with a 7-day free trial
Subscribe to
High Tide
to keep reading this post and get 7 days of free access to the full post archives.