Discover more from High Tide
Know Hong Kong in minutes
Over 1,000 subscribers
🌊 Free Tide: Olympics champions prioritise mental health
CE says Professional Teachers' Union is "hijacking" education sector
Good morning
Apparently there's a tropical storm coming? HKO predicts thunderstorms and rain, and the Standby Signal No. 1 will likely remain in force throughout the morning. Stay safe and dry, everyone.
~ Kyna
---
Chinese gold medalist discusses struggle with depression
"I have to really take care of my mental state," said Shi Tingmao, a four-time diving champion for China in the Olympics. Shi was fresh off her second gold in the Tokyo Games when she revealed her struggles with mental health during a recent press conference.
The Olympian said she had considered quitting after her form regressed last year, but ultimately realised that "I really love diving [and there was] no way that I could give it up." Shi also struggled with not being able to see her family for over a year because of her training schedule.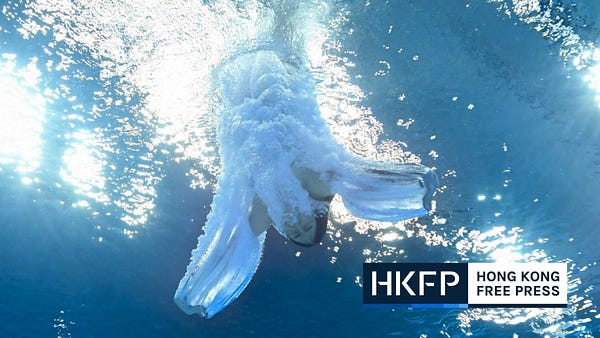 Famed artistic gymnast Simone Biles has also prioritised her mental wellbeing and pulled out of several events in the Tokyo Games.
---
COVID news
Coronavirus in Hong Kong
New cases: 3 (imported)

Total cases: 11,991 cases so far (64 active cases, 212 total deaths, 11,715 total recovered)
Civil servants, school staff, care home workers and members of the Hospital Authority must now get vaccinated or undergo compulsory testing. This also applies to workers who come into contact with recent incoming travellers.
Chief Executive Carrie Lam also mentioned that at a date to be announced, all arrivals would be required to present a negative coronavirus test taken within 72 hours of their flight.
Border control is also being tightened to create an "anti-epidemic barrier". Read about it on today's Paid Tide.
---
What you need to know on…
The Education Bureau (EDB) cutting ties with the Professional Teachers' Union (HKPTU):
The Chief Executive accused the body of "hijacking" the education sector. Lam also asserts that the body has left many people with a negative impression of the city's teachers and "violated [their] professionalism."

This comes after Chinese state media like Xinhua and the People's Daily described the PTU as a "poisonous tumour that must be rooted out". Lam denies that the severed contact had anything to do with this criticism, however.

Lam says this is a lesson learned from the extradition bill protests, where "thousands of students didn't have the awareness to abide by the law."

The HKPTU expressed disappointment with the government's decision and said it would be "a loss to the entire industry". According to their statement, the organisation emphasises the positive role trade unions play in "protecting the rights and interests of employees and improving policies".
---
Don't you just hate when students and educators engage in civil society?
Anyway, support journalism by subscribing to High Tide or by donating to our PayPal and Patreon! You can also share us with a friend to keep us afloat.